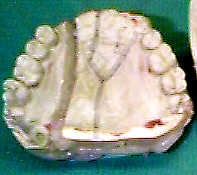 Preparation is the key to success! Here we see the final treatment plan cut on a model of my maxilla prior to it actually being performed on me. The first treatment plan had the maxilla being cut along the dark lines, cutting it into 3 pieces.

Only thing was, the first route had a problem with that small upper portion, which was designed to move a single tooth into alignment; it would have poor blood circulation and small surface area left, putting it at risk of not healing properly.

The surgeons thus decided to remove the tooth instead, and make one vertical cut, dividing the maxilla into two pieces. These pieces were moved inward and forward a few centimeters.